Killi 2 Sea
KILI 2 C – MOUNTAIN BIKE MISSION TO MNT KILIMANJARO and ZANZIBAR
Secret Destinations will be running the Kili2C mountain bike mission in Tanzania. We have come up with an incredible but challenging route that includes three days of riding around the base of Africa's highest mountain, Kilimanjaro, and then riding for four days through some dramatic African scenery and the Usambara mountains to the shores of the Indian Ocean at Pangani on the Tanzanian coast. This bucket trip of a lifetime is finished off with a ferry ride to Zanzibar where we have a day to unwind and do some scuba diving before cycling the 100km length of the island the next day, to end up in historic Stone town for our farewell dinner and celebration.
We will be cycling 650km over 9 days, with only one rest day. Although cycling will be challenging, with daily distances varying from 41km (on day one) to 138km (on the big day four), every day will include a lunch stop for a freshly prepared hot meal and a chance to recover at the half way mark of the day. A backup vehicle will follow the same route as the riders and will ensure that bike spares, water and food, as well as the medical aid kit are never far away. Our support team will include a qualified local guide, a bike mechanic and a cook to prepare the lunches.
Accommodation is in local lodges and hotels of a good standard (3-4 star) and have all been carefully selected to ensure maximum comfort, hot showers and a good dinner and breakfast. The price of the trip will include flights from Dar to Kili, accommodation, ferries to and from Zanzibar, the backup vehicle and support staff, all meals as indicated on the detailed itinerary and a Kili2C t-shirt. Riders are expected to bring their own bikes with a minimum amount of spares.
This inaugural Kili2C epic will be accompanied by the Secret Destination's chief guide Adriaan Hefer. Adriaan has been to Tanzania and Zanzibar many times, including climbing Kili and has great local knowledge to ensure an enjoyable trip for everyone. The cost of the trip is US$2,350 per person ex Dar es Salaam. A deposit of 50% is expected to secure the booking.
Day 1
Depart Cape Town for Johannesburg
Depart Johannesburg for Dar  – SAA JHB to Dar 09:30 – 13:55 and  14:25 – 18:50
Connecting flight to Kilimanjaro
Overnight in Lawate at House of West Kili  – www.houseofwestkili.com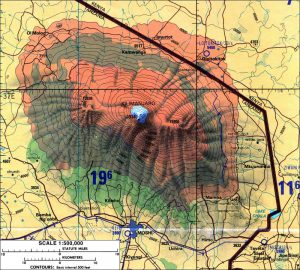 Day 2
Mountain Bike on Kilimanjaro foothills – Lawate to Ndarakwai (41km) –   41km of cycling  (hot lunch on route)
Overnight Ndarakwai Tented Lodge  – www.ndarkwai.com   – Optional game drive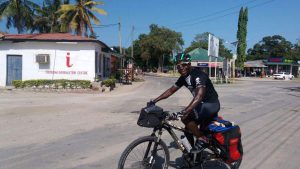 Day 3
Mountain Bike on Kilimanjaro foothills – Ndarakwai to Rongai – 81km of cycling (hot lunch on route)
Overnight at Snowcap Cottages – www.snowcap.co.tz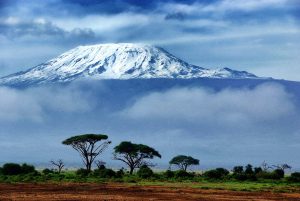 Day 4
Mountain Bike on Kilimanjaro foothills – Rongai to Lake Chala –  61km of cycling (hot lunch on route)
Overnight at Lake Chala Safari Camp – www.lakechalasafaricamp.com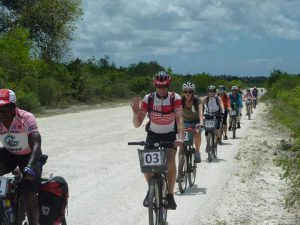 Day 5
Cycle through Usambara Mountains – Same to Mtae – 138km of cycling (lunch and breakfast on route)
Overnight at Mambo View Point  Eco Lodge – www.mamboviewpoint.org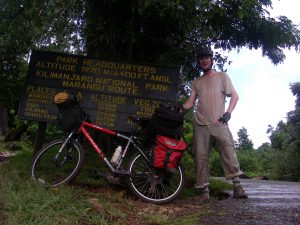 Day 6
Cycle through Usambara mountains – Mtae to Mkuzi (Lushoto) – 58km of cycling (hot lunch on route)
Overnight at Mulllers Mountain Lodge – www.mullersmountainlodge.co.tz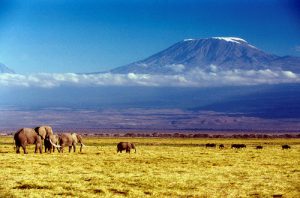 Day 7
Cycle through Usambara Mountains – Lushoto to Karogwe – 86km of cycling (hot lunch on route)
Overnight in Karorwe at basic RC Sisters Hostel
Day 8
Cycle down to the coast – Karogwe to Pangani – 80km of cycling
Overnight at Peponi Beach Resort – www.peponiresort.com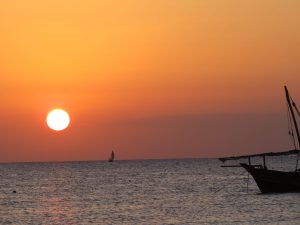 Day 9
Ferry from Pangani to Zanzibar (Kendwa Rocks)
Evening sunset cruise on dhow, and snorkeling
Overnight at Kendwa Beach Hotel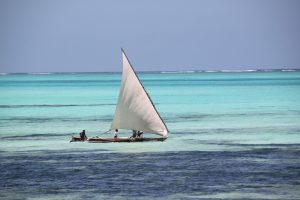 Day 10
Scuba dive and then Cycle to Stone Town (90km) – 100 km of cycling (optional)
Overnight at Stone Town or resort outside
Last Night in Zanzibar, farewell dinner
Day 11
Ferry to Zanzibar and then flight to JHB – SAA Dar to JHB 14:40 to 17:20
" WE RUN TAILOR MADE TRIPS FOR GROUPS OF 8 OR MORE "
contact us for costs and planned dates or more info …